Groton Reads is an Annual Community-Wide Reading Event coordinated by GPL. It asks, "What if everyone in Groton read the same book - or, this year, bookS?"
The Groton Public Library is kicking off Groton's 18th annual community-wide reading event by bringing back our interrupted program from March 2020 and relaunching it in March 2022! Join us as we celebrate both reading and eating with our 2022 Groton Reads...AND EATS!
There will be a wide variety of food-related programs, ranging from culinary films to cooking programs, a look at local farming in Groton, and even edible books. There are events for all ages – everyone will have opportunities to participate! Programs will be held virtually, at the library, and around town.
Registration is OPEN and is required for most events. Also, events with limited capacities may be restricted to residents only until one week before the event. For events requiring residency, a library card number will be needed as well as an email address. All events are free, thanks to the generous support of the GPL Endowment Trust. See the full events calendar for March!
Our "menu" of reading options returns with the following titles: The Kitchen Counter Cooking School by Kathleen Flinn, The Kitchen Daughter by Jael Henry, The Dirty Life by Kristen Kimball, Food Rules by Michael Pollan, and Garlic and Sapphires by Ruth Reichl. Read one or all!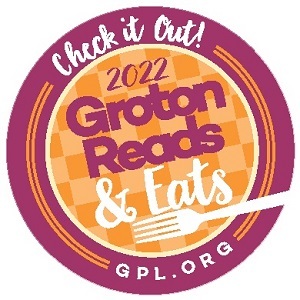 Check out a GR&E book at the library to receive a Groton Reads & Eats pin. Show your pin in March to earn a discount at participating businesses - here is the current list as of Feb. 3, 2022:
Dolce Amar Bakery and Café: Free coffee (not specialty) with purchase
Forge and Vine: 15% off food
Kitchen Outfitters in Acton: 10% off purchases
The Groton Natural Market: 15% off all purchases, except for CBD products and food made and served from their kitchen
Hollis Street Nutrition: 15 % off all purchases
We're compiling a community cookbook! Contribute a special recipe for our Groton Reads & Eats 2022 Cookbook! Use this form to submit a recipe.
We are delighted to be partnering with Groton restaurants, businesses, and organizations for this event, but if you host a special event related to GR&E, please let us know! We'd be happy to provide materials, books, and/or space to meet.
Groton Reads & Eats will run March 1 through 31. For more information, please visit the library, return here for updated information, or call 978-448-1167.
---
About the books
These books are available in a variety of formats—book, audiobook, ebook or large print.
See a full list of Groton Reads titles from 2005-present.