Bruce Pinto, Paintings
October 18 - December 17, 2022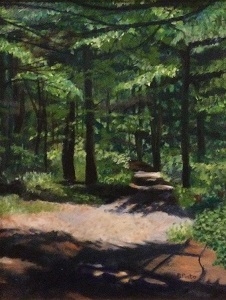 I moved to Groton from central Pennsylvania last winter. I'm new to Groton, but Groton is not entirely new to me. I moved to be close to my daughters and their families, who, in one case, live only minutes away, in the other case, just a short distance away. We've been visiting for more than ten years and love everything about the Groton area. Being outdoors, I couldn't have found a more idyllic place to be home. Hiking, snowshoeing, cross country skiing, and conservation areas to explore that I never realized were here. The acreage must be in the thousands. (I sometimes feel it's a shame I'm not a particularly avid fisherman.) The scenery and subjects for painting are limitless here. Although I began my painting stage of life doing portraits, life painting, and still life, I find Groton and surrounding areas to have such a strong appeal that I'm focusing more on landscapes. I was in the corporate world for decades, which was rewarding, but I had always wanted to capture what I saw, where I visited, and what experiences struck me. My second life began 11-12 years ago, studying with artists primarily based in Pennsylvania. My work is in charcoal, pastels, and oils. I paint what I experience firsthand, even if it means I must work from a photograph. I get great satisfaction doing Plein air painting, but that's not always possible. So, if I have to rely on photographs, it's always my photograph.
— Artist statement
Exhibition Photo Gallery
---
The Owen Smith Shuman Art Gallery exhibits several shows each year, featuring artists from Groton and area communities, in both solo and group shows.
Guidelines for Submitting Artwork / Exhibition Proposals

The Owen Smith Shuman Gallery of the Groton Public Library accepts submissions for art exhibits on a rolling basis. The Curator is responsible for selecting art for exhibits. In general, preference is given to group shows over solo exhibits and to local artists in Groton and surrounding communities

About the Venue
The Owen Smith Shuman Gallery is a beautiful, well-lit gallery that is supported by the Groton Public Library Endowment Trust and is an integral part of the local art scene. The Endowment provides for receptions, publicity, and a curator. Artists should carry their own insurance as the gallery does not have insurance for exhibited works.

Requirements:
• Submit 16-20 slides or digital images with the artist's name and the title of the image on the slide. A CD or USB submission must have the artist name on it as well as a separate document listing the titles, media, and size of each piece.
• A complete proposal should contain: your images, a current resumé, list of images (with titles, media, and size), and an artist's statement.
• Please submit an appropriately stamped envelope for return of your materials, if desired.
• If you are submitting digital images, you may email all of the above.
• Artists may include a link to their websites, but that does not replace a submission proposal.
• Optional: a small stipend is available for an artist's talk. If interested, submit a description of your talk and list public speaking experience on your resumé.
• Work submitted must be appropriately framed with eye hooks and wire on the back. Any exceptions to this rule should be submitted to the curator for approval.

Sales of Work
The Gallery requests a 10% donation to the Groton Public Library Endowment Trust for all work sold.

Contact
Ken Hansen, Gallery Curator, artcurator@gpl.org

Groton Public Library 99 Main Street, Groton, MA 01450