Martha Oldham, Paintings
Summer 2022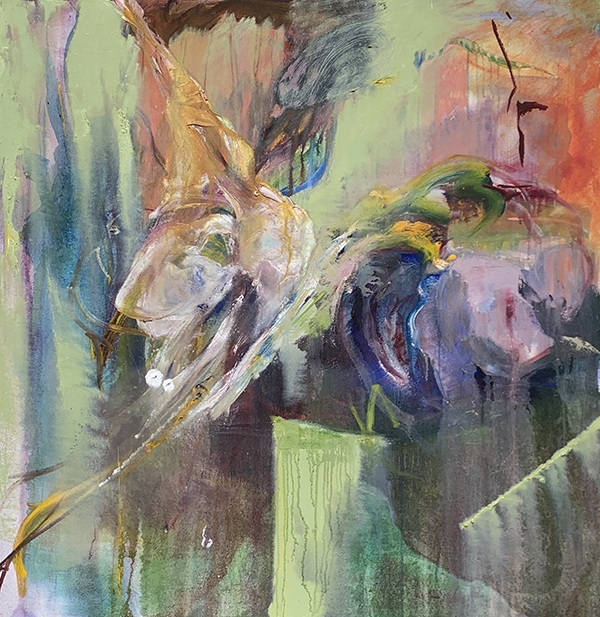 Martha and I were next-door neighbors for the last eighteen years of her life. Over that time, I was privileged to learn more about her background, art, and her interest in gardening. I came to appreciate her sharp intellect and dedication to practicing and teaching her craft. I discovered that for several years she held the same position of Exhibit Curator that I now have at the library.
Following her passing, I had several conversations with family members regarding numerous artworks they had found in her garage studio. We agreed that it might be a fitting tribute to the former Curator to display this collection in a special show. With their blessing, I am pleased to share a selection of work by my neighbor, Martha Oldham.
Ken Hansen, Owen Smith Shuman Art Gallery Curator
---
Martha F (Faith) Oldham was born November 13, 1957, in Camden, New Jersey, to Dorothy and (Rev) Albert Oldham. She grew up in a resort barrier island community in Long Beach Island, New Jersey. Her father was director of the Harvey Cedars Bible Conference, an evangelical fundamentalist retreat.
Her undergraduate schooling was at Wheaton College (Illinois), the alma mater of Billy Graham and appropriately Evangelical Christian in world view and curriculum. That schooling and her upbringing foundation informed the Christian iconography and underlying themes of her most personal art.
She earned her first Master's degree at the University of Illinois, where she also taught. She had numerous one-person and group shows in the vibrant art community in Chicago in the early 1980s.
Martha moved to Groton with her family in 1988. Here in Groton, she found a thriving art community that embraced and inspired her immediately. In addition, her love of teaching brought her to positions at; The Museum School of the Danforth Museum in Framingham, The Sharon Arts Center in Sharon, NH, Franklin Pearce College, Fisher College, as well as association with the Medicine Wheel (now Spoke) in Boston, the Groton Senior Center and private class groups.
Martha curated the Groton Public Library Owen Smith Shuman Art Gallery for several years. Her exhibitions focused on emerging talent as well as established local/regional artists. She actively sought out exhibitors and encouraged aspiring artists to showcase their works.
Teaching others to create was her passion. She said, "I can teach anyone to draw who can hold a pencil. Creating art then depends on their inspiration and vision."
In recent years she traveled to Italy annually with Spoke, a Boston-based non-profit, where promising students travel to see classical art and engage in seminars and intensive teaching/mentoring experiences. Spoke held an in Memorium tribute in conjunction with their annual fundraising event in 2021. Persons interested in art with purpose are encouraged to learn more about the program at https://mwponline.org/wordpress.
She is survived by three sons, Jesse, C J, and James, and two granddaughters, Maggie and Georgia. She is also survived by a legion of former students who found their art or had their abilities and vision enhanced by her dedication to teaching others the joys of artistic creation.
— Biographical notes courtesy of Carl Bascom.
Exhibition Photo Gallery
---
The Owen Smith Shuman Art Gallery exhibits several shows each year, featuring artists from Groton and area communities, in both solo and group shows.
Guidelines for Submitting Artwork / Exhibition Proposals

The Owen Smith Shuman Gallery of the Groton Public Library accepts submissions for art exhibits on a rolling basis. The Curator is responsible for selecting art for exhibits. In general, preference is given to group shows over solo exhibits and to local artists in Groton and surrounding communities

About the Venue
The Owen Smith Shuman Gallery is a beautiful, well-lit gallery that is supported by the Groton Public Library Endowment Trust and is an integral part of the local art scene. The Endowment provides for receptions, publicity, and a curator. Artists should carry their own insurance as the gallery does not have insurance for exhibited works.

Requirements:
• Submit 16-20 slides or digital images with the artist's name and the title of the image on the slide. A CD or USB submission must have the artist name on it as well as a separate document listing the titles, media, and size of each piece.
• A complete proposal should contain: your images, a current resumé, list of images (with titles, media, and size), and an artist's statement.
• Please submit an appropriately stamped envelope for return of your materials, if desired.
• If you are submitting digital images, you may email all of the above.
• Artists may include a link to their websites, but that does not replace a submission proposal.
• Optional: a small stipend is available for an artist's talk. If interested, submit a description of your talk and list public speaking experience on your resumé.
• Work submitted must be appropriately framed with eye hooks and wire on the back. Any exceptions to this rule should be submitted to the curator for approval.

Sales of Work
The Gallery requests a 10% donation to the Groton Public Library Endowment Trust for all work sold.

Contact
Ken Hansen, Gallery Curator, artcurator@gpl.org

Groton Public Library 99 Main Street, Groton, MA 01450