Edward Birch and Christopher Riemer, Photographs
October 20 - December 5, 2021 (extended to Dec. 12)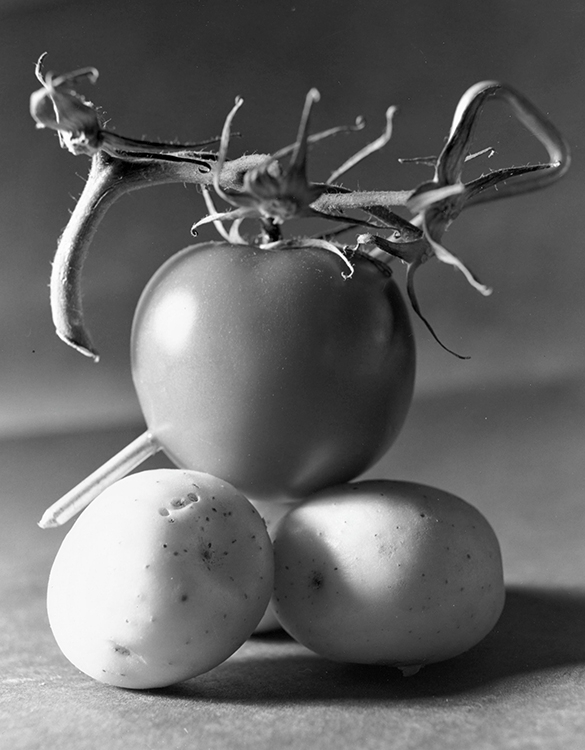 Edward Birch takes the "old school" approach to his photography. Loading any one of his antique cameras with black and white film, he composes his symphonies of light and shadow and then lab-develops the outcome.
Ed's camera arsenal consists of vintage collectibles, and his story is a slice of classic Americana:
"Originally from New Jersey, I learned much of my basic knowledge of photography from my father. After serving as a U. S. Army Air Corp photo specialist, he grew to be an avid hobbyist. As a result, I grew up with several classic cameras and a fully equipped darkroom in our basement.
After high school, I spent some time in Boston. Then, in 1972, I was drafted by the Military and decided to enlist in the USAF, where, after basic training, I was assigned to duty as a photographic specialist and a photo lab tech. This experience was really where my passion began."
Chris Riemer, a young product of Groton, is exploring new paths of expression in photography. Like Ed, his primary medium of choice is film, but it's mainly color film. Working with specialized and novelty lenses, his experimental techniques yield remarkable, dazzling results that border on abstraction. He avoids digital editing for his effects.
Ken Hansen,
Curator
Generously supported by the Groton Public Library Endowment Trust.
Exhibition Photo Gallery
---
The Owen Smith Shuman Art Gallery exhibits several shows each year, featuring artists from Groton and area communities, in both solo and group shows.
UPCOMING SHOWS
EDWARD BIRCH, CHISTOPHER RIEMER, photographs
October 20 through December 5, 2021
TINA FRANZISKA JOST, photographs
December 8 through January 23, 2022
For more information, contact the Gallery Coordinator Ken Hansen at artcurator@gpl.org.
Guidelines for Submitting Artwork / Exhibition Proposals

The Owen Smith Shuman Gallery of the Groton Public Library accepts submissions for art exhibits on a rolling basis. The Curator is responsible for selecting art for exhibits. In general, preference is given to group shows over solo exhibits and to local artists in Groton and surrounding communities

About the Venue
The Owen Smith Shuman Gallery is a beautiful, well-lit gallery that is supported by the Groton Public Library Endowment Trust and is an integral part of the local art scene. The Endowment provides for receptions, publicity, and a curator. Artists should carry their own insurance as the gallery does not have insurance for exhibited works.

Requirements:
• Submit 16-20 slides or digital images with the artist's name and the title of the image on the slide. A CD or USB submission must have the artist name on it as well as a separate document listing the titles, media, and size of each piece.
• A complete proposal should contain: your images, a current resumé, list of images (with titles, media, and size), and an artist's statement.
• Please submit an appropriately stamped envelope for return of your materials, if desired.
• If you are submitting digital images, you may email all of the above.
• Artists may include a link to their websites, but that does not replace a submission proposal.
• Optional: a small stipend is available for an artist's talk. If interested, submit a description of your talk and list public speaking experience on your resumé.
• Work submitted must be appropriately framed with eye hooks and wire on the back. Any exceptions to this rule should be submitted to the curator for approval.

Sales of Work
The Gallery requests a 10% donation to the Groton Public Library Endowment Trust for all work sold.

Contact
Ken Hansen, Gallery Curator, artcurator@gpl.org

Groton Public Library 99 Main Street, Groton, MA 01450