Priscilla Levesque, Paintings
September 8 - October 17, 2021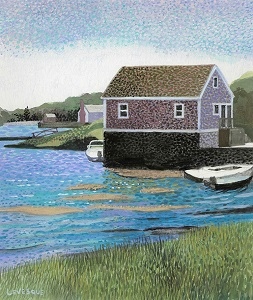 Pointillism, a technique of painting with tiny dots of pure color, was a brief but consequential art movement that grew out of the prevailing style of Impressionism. Pioneered in the mid-1880s by two of its best-known proponents, George Seurat and Paul Signac, Pointillism emphasized recently publicized discoveries in science and color theory, most influentially detailed in the book Principles of Harmony and Contrast of Colours by French Chemist Michel Eugène Chevreul. The viewer's eye optically blends careful application of harmonious, complementary, or contrasting spots of paint. Several giants of the post-impressionist period, such as Van Gough, Picasso, and Matisse, experimented with pointillist techniques early in their careers. While the studied and exacting method of paint application never thoroughly succeeded established traditions of color mixing, the applied science of optical color perception found subtle articulation in the trailblazing work of the Modernists. Many of the concepts and processes continue to be used by artists today.
Priscilla Levesque describes herself as a neo-pointillist, applying similar principles to her painted scenes with soft focus and moody effect. Her chosen medium is casein, opaque water-based paint that she lays on 300 lb. watercolor paper.
Priscilla grew up in Ashburnham and received her BFA from UMass Amherst. While living on Cape Cod, she took classes with several artists, including Claude Croney, Robert Roark, Rosalie Nadeau, Paul George, and Selina Trieff. She now lives in Lowell with her husband Steven Jacobs and paints in her studio at Western Avenue.
Ken Hansen,
Curator
Generously supported by the Groton Public Library Endowment Trust.
Exhibition Photo Gallery
---
The Owen Smith Shuman Art Gallery exhibits several shows each year, featuring artists from Groton and area communities, in both solo and group shows.
UPCOMING SHOWS
EDWARD BIRCH, CHISTOPHER RIEMER, photographs
October 20 through December 5, 2021
TINA FRANZISKA JOST, photographs
December 8 through January 23, 2022
For more information, contact the Gallery Coordinator Ken Hansen at artcurator@gpl.org.
Guidelines for Submitting Artwork / Exhibition Proposals

The Owen Smith Shuman Gallery of the Groton Public Library accepts submissions for art exhibits on a rolling basis. The Curator is responsible for selecting art for exhibits. In general, preference is given to group shows over solo exhibits and to local artists in Groton and surrounding communities

About the Venue
The Owen Smith Shuman Gallery is a beautiful, well-lit gallery that is supported by the Groton Public Library Endowment Trust and is an integral part of the local art scene. The Endowment provides for receptions, publicity, and a curator. Artists should carry their own insurance as the gallery does not have insurance for exhibited works.

Requirements:
• Submit 16-20 slides or digital images with the artist's name and the title of the image on the slide. A CD or USB submission must have the artist name on it as well as a separate document listing the titles, media, and size of each piece.
• A complete proposal should contain: your images, a current resumé, list of images (with titles, media, and size), and an artist's statement.
• Please submit an appropriately stamped envelope for return of your materials, if desired.
• If you are submitting digital images, you may email all of the above.
• Artists may include a link to their websites, but that does not replace a submission proposal.
• Optional: a small stipend is available for an artist's talk. If interested, submit a description of your talk and list public speaking experience on your resumé.
• Work submitted must be appropriately framed with eye hooks and wire on the back. Any exceptions to this rule should be submitted to the curator for approval.

Sales of Work
The Gallery requests a 10% donation to the Groton Public Library Endowment Trust for all work sold.

Contact
Ken Hansen, Gallery Curator, artcurator@gpl.org

Groton Public Library 99 Main Street, Groton, MA 01450