1,000 BOOKS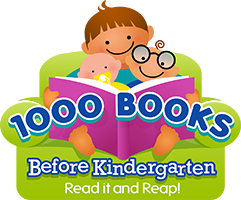 1,000 Books Before Kindergarten is a national program that promotes reading together with your child. The more words and books a child is exposed to in their early years, the more likely they are to love reading! This program is designed to help parents prepare their children for one of life's big milestones: kindergarten. Sign up children ages birth to kindergarten and receive a FREE 1,000 Books Activity Journal and book bag! Give your Child the Gift of Reading!
Resources generously provided by the GPL Endowment Trust.
Recommended Books and Media
Children's Room librarians are always happy to recommend books for children. Here are some great websites that can also help you find award-winning books and media for children of all ages and interests.